So I don't know about you guys but the one thing missing from my wardrobe is a vidding tshirt, and since this is the age of the geek, the internet has made it totally possible to remedy this.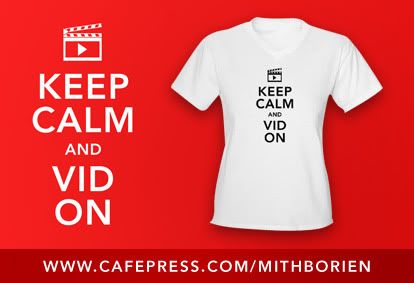 This whole venture came about between a conversation between
mresundance
and myself when I was freaking out about a vid and he told me "Keep calm and vid on!" I said: "That should totally be on a tshirt." And he said: "MAKE IT MAKE IT MAKE IT ZOMG ".
And lo, it was done!
So click below to check out our Cafepress store where you can buy all manner of tshirts and other objects (I may have gone slightly overboard with the product options), all with the delightful motto of "Keep calm and vid on!" (Also, please double check that you are viewing the prices in your correct currency.)
www.cafepress.com.au/mithborien
Also, all profits will be going to charity! The plan is to rotate through a couple of charities depending on how much is sold but the first charity we will be donating to is
www.lustgarden.org
Lustgarden's mission is to advance the scientific and medical research related to the diagnosis, treatment, cure and prevention of pancreatic cancer. 100% of all their donations goes directly to pancreatic cancer research.
I am also open to suggestions about other designs, colours, store improvements and kittens. Just leave a comment below!
(Also, feel free to pimp this if you so desire!)